Boustan will be the exclusive distributor of Capri-Sun products in Afghanistan.
With so many varieties to choose from, There's a Capri-Sun for every taste and every occasion.
Capri-Sun is a German juice concentrate drink owned by Capri-Sun Holding Group in Germany, which is a privately held company of Hans-Peter Wild. It was introduced in 1969 and named after the Italian island of Capri. Capri-Sun has been distributed in the United States since 1981.
A Natural Taste: The main ingredients of the original CapriSun.
When Rudolf Wild invented Capri-Sun and the sachet in 1969, it was his goal to develop a natural, delicious tasting, and refreshing fruit juice drink that you can enjoy easily and practically wherever you are.
Capri-Sun Fact
We can proudly say that the Original Capri-Sun has not contained any preservatives, artificial flavors, colors, or sweeteners since then. On the contrary: the delicious taste of our Original CapriSun comes from a remarkably simple list of natural ingredients.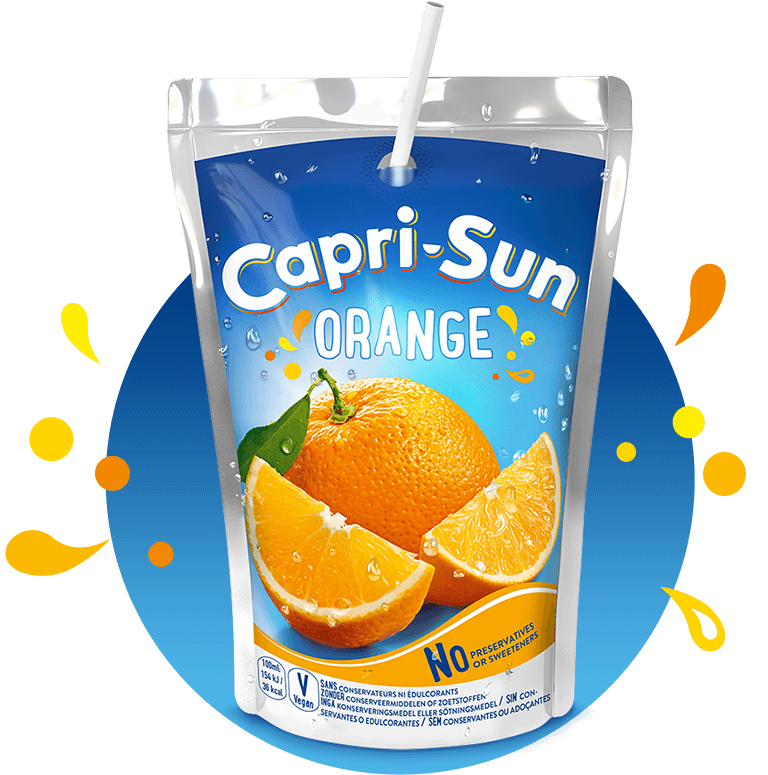 The Original Capri-Sun has only been made from natural ingredients since it was launched in 1969:
without preservative substances
without dyes
without artificial flavors
without artificial sweeteners
What are the ingredients in Capri-Sun original?
The food labeling on the back of each Capri Sun bag provides information about the ingredients used. There is also a table that provides information about the nutritional values ​​of our drink at a glance.
We select the fruits and ingredients very carefully: only the best quality ingredients are put into our bags. The following ingredients result in the delicious taste of our Original Capri-Sun Orange:
Springwater
Sugar
Fruit Juice Concentrate
Natural Orange Flavor
Vitamin C
Ascorbic acid
Better known as vitamin C is ascorbic acid, which we use in small amounts as an antioxidant and preservative. The low pH value of ascorbic acid helps to preserve the freshness of our fruit juice drinks.
Capri-Sun Fact
We take care of your needs! Capri-Sun is:
lactose free
allergen free
gluten free
suitable for vegetarians
vegan
No Preservatives – How does Capri-Sun stay fresh?
The secret is in the bag: the innovative packaging is the reason why our drink stays fresh for so long even without preservatives.
Our Original Capri-Sun is filled into the bag at a temperature of over 80 ° C. This process is similar to the pasteurization of milk. In this way – and thanks to the special protection that the bag offers – we can do without preservatives and other artificial ingredients.
Fruit juice made from fruit juice concentrate
Depending on the taste of our drinks, we use a carefully balanced mixture of fruits. The fruit juice content of the Original CapriSun is between 10% and 12%. Except for our Capri-Sun multivitamin, to which we add various vitamins, our drinks contain the natural vitamins that are contained in the juices used.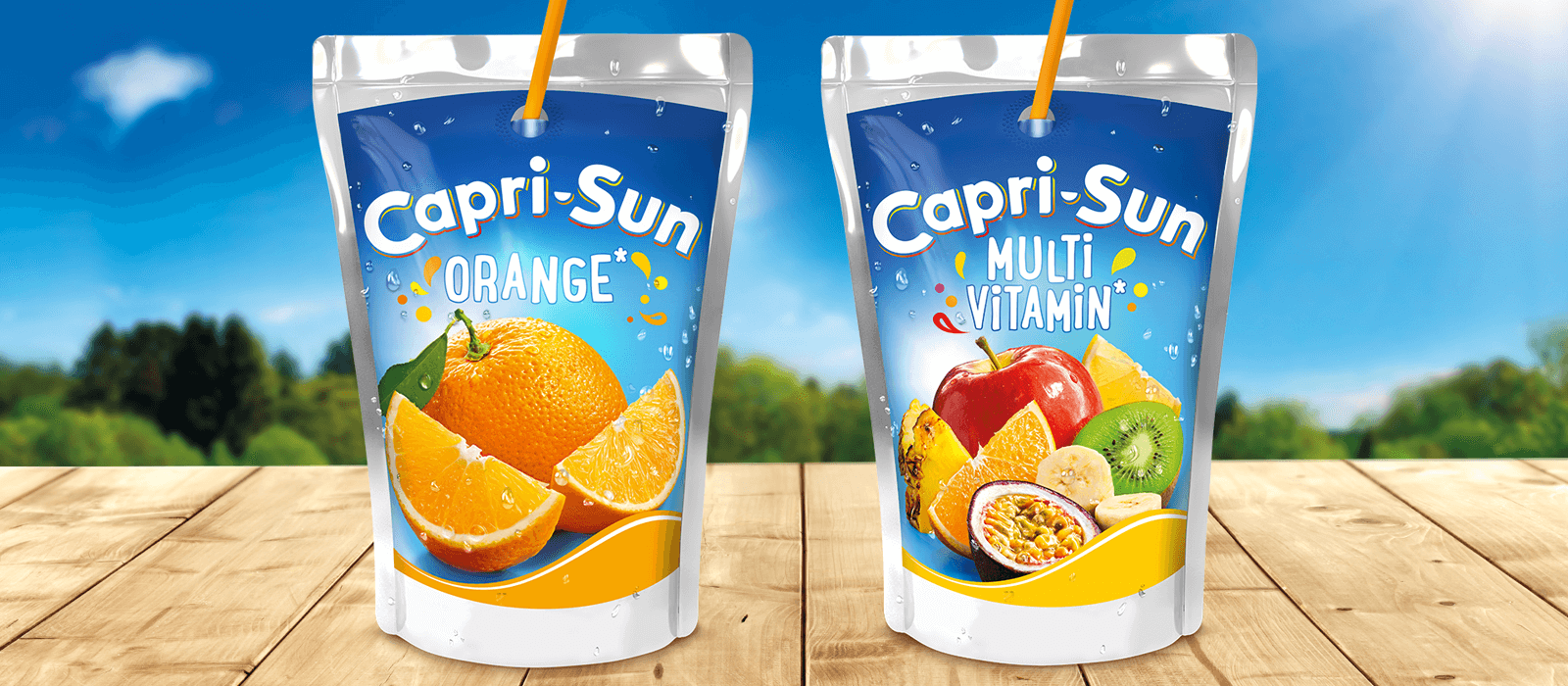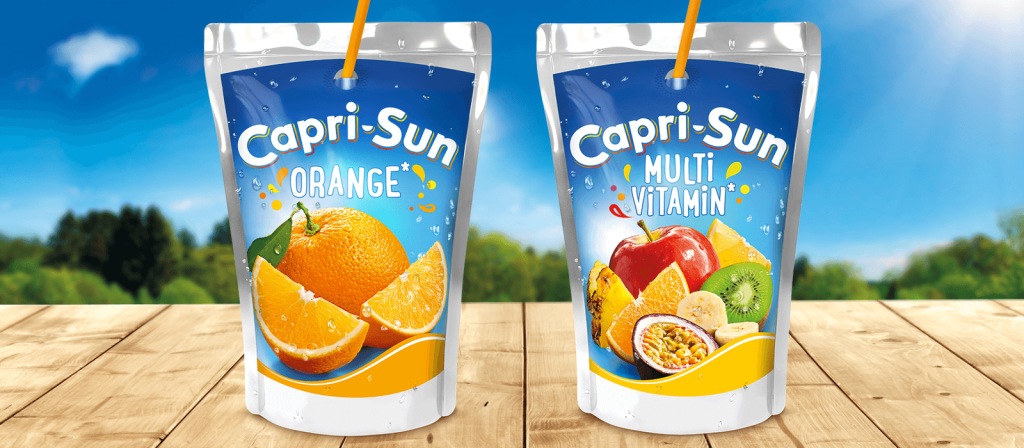 Sugar
The sugar in our Original Capri-Sun not only sweetens our fruit juice drink, it also enhances the natural fruit taste and supports preservation in a natural way.
Since Capri-Sun first conquered the store shelves in 1969, we have steadily reduced the amount of sugar in our products. A 200 ml bag now only contains 19 g of sugar: which is less than the comparable amount of pure fruit juice.
Our Promise of Naturalness and Quality
"Natural fun" is not just a slogan on Capri-Sun. It is our creed.
This is why Capri-Sun is always manufactured exclusively with natural flavors, and of course, without preservatives or artificial sweeteners.
To ensure our products are consistently delicious, we closely monitor our ingredients. Only the best fruits and juices are good enough to be in a Capri-Sun.
Guaranteed quality!
How many calories does Capri-Sun contain?
The nutritional information is on the back of each Capri Sun bag. The calorie content of the various drinks is also listed here. Most types of Capri Sun contain 29 to 40 kcal (calories) per 100 ml.
That is fewer or the same number of calories as in 100 ml of pure apple juice (46 kcal) and much fewer calories than in 100 ml of whole milk (68 kcal).
CapriSun Fact
The main ingredients of Capri-Sun are water and fruit juice. 100 ml contain 29 to 40 kcal. That is less than the comparable amount of:
Pure apple juice (approx. 46 kcal)
Whole milk (approx. 68 kcal)
Natural Taste
It has always been important to us that our drinks are natural, refreshing and enjoyable to drink.
In order to bring out the natural fruit taste even better, we only use flavorings from natural sources.
Isn't it great how few ingredients are needed to make such delicious drinks? And we are sure that we will soon find many new ways to offer you drinking fun with natural ingredients.
Capri-Sun Multivitamin
Why choose one when you can have them all? Capri-Sun multivitamin combines the taste of orange, apple, pineapple, banana, kiwi and passion fruit in one delicious drink. Yummy to the power of 6!
Capri-Sun Fact
New: Our 100% recyclable paper straw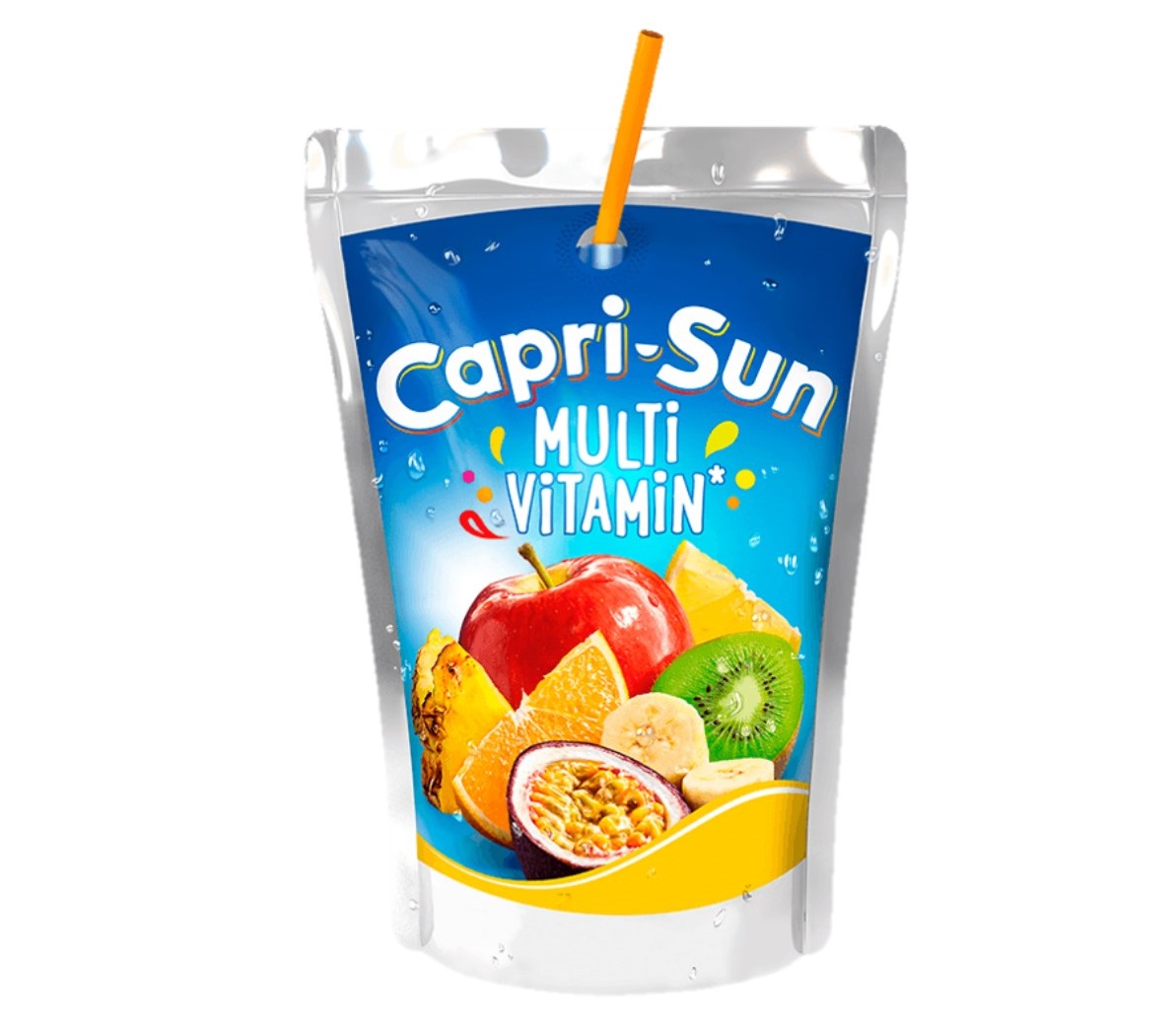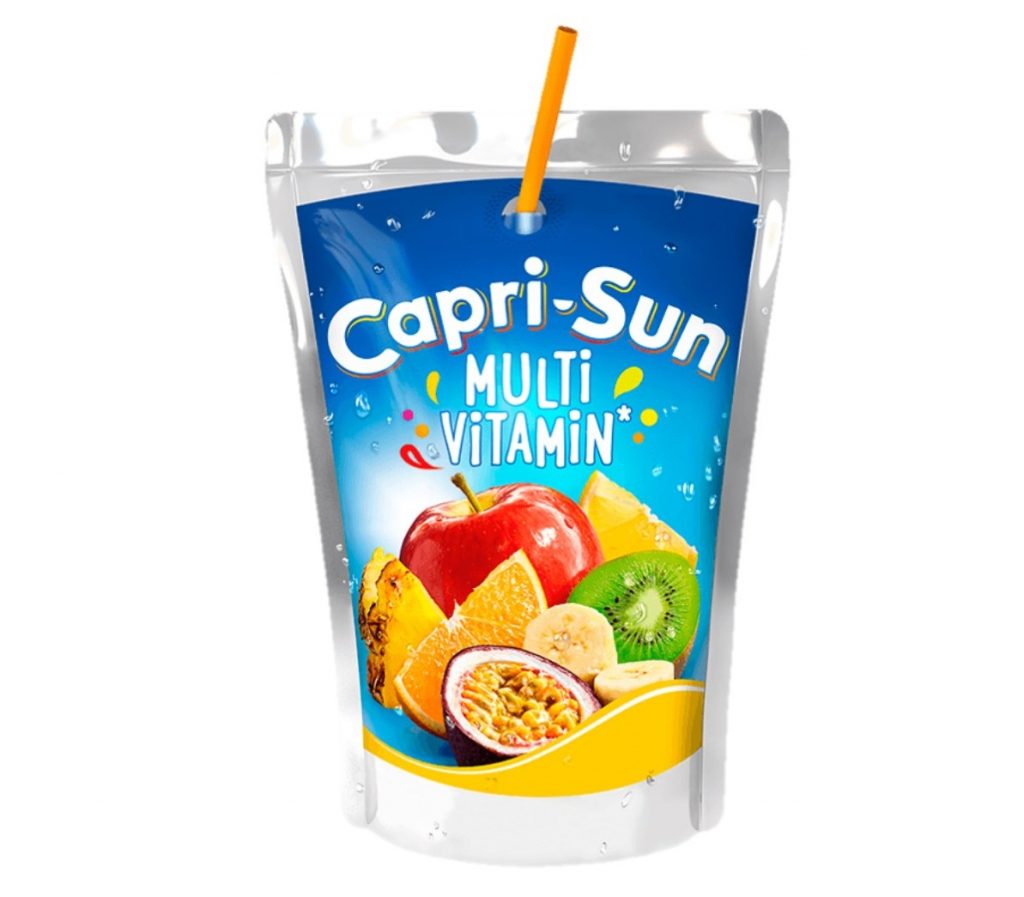 At Capri-Sun, we are committed to promoting actions that minimize our impact on the environment. For years we have followed a path as a brand to have fully recyclable packaging. With our new 100% recyclable paper straw we are getting one step closer to realizing our sustainable vision: to be the most sustainable natural drink for children, available everywhere, in the world. To support the launch of our paper straw, we have partnered with OneTreePlanted. We will replant the same number of trees that we use to make paper straws in European markets in 2021, helping to restore the habitats of endangered wildlife such as chimpanzees.
We make sure that our new paper straw offers the same drinking experience as our old plastic model. The paper straw has been designed to be used in the same way as our plastic straw.